Last Updated June 2004



(click image to return to main page)

I just want to thank everyone that came to the Reunion, it wouldn't have been a sucess without you there! Below are a couple of the group shots, be sure to also check out the photos taken at the reunion.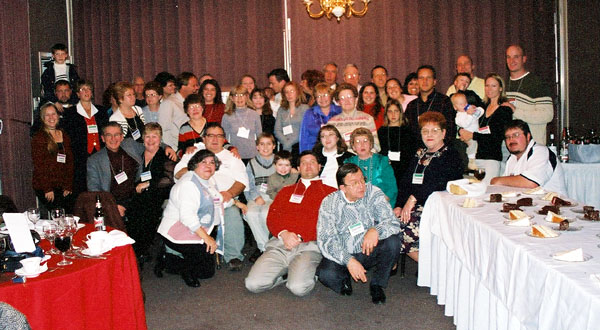 Click here for a larger file size of above image for printing purposes.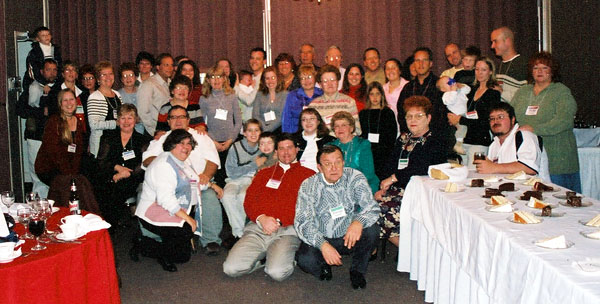 Click here for a larger file size of above image for printing purposes.
Reunion Photos Photos from the reunion can be found here. If you would like me to add photos you took as well, please email them over to me.
Printable Family Album Photos Anyone wishing to print a copy of the family album with pictures and family history can follow the instructions Marjorie Waligorski has provided here.
Scanned Photos Photos that were scanned during the reunion are here.
Family Photos Check out the Family Photos page for some great older photographs of our family. Note that this page is still missing some information and not in any particular order, if you have any corrections please let me know (please include photo number). Any and all photos are welcome!
We also have a photo request from Doloras Hall: "I remember when I was little I saw a picture at aunt Viola's house in a large ovel frame of a very pretty small lady in a long dress she had her hair up and standing by a table with flowers. I wonder if it was your dad's (Raymond Waligorski) grandmother?." This ringing a bell with anyone??

RSVP List The RSVP list from the reunion is located here.
---
The Waligorski-Prentki Family (and friends!) Reunion was on November 29, 2003 in Edgewood, Maryland located just 30 minutes outside of Baltimore. We spent an evening together from 7:30 pm to 11:30 pm at Vitali's Restaurant & Pub located at:

Vitali's Restaurant & Pub
1709 Edgewood Road
Edgewood, MD 21040
Phone: 410-671-9800

Vitali's Restaurant & Pub is conveniently located between Baltimore and Philadelphia at the intersection of MD Rt. 24 & I-95. Simply take exit 77A off I-95. They're on the right corner of the first traffic light (Van Bibber Road).